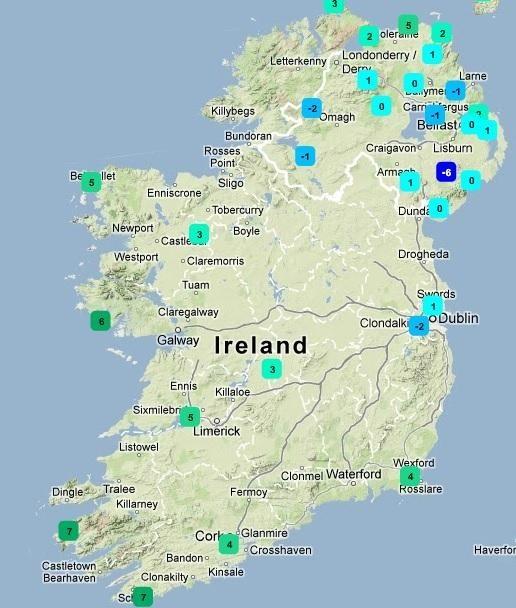 If you live outside Northern Ireland, you've probably never heard of Katesbridge. It's a tiny place on the road between Banbridge and Castlewellan (you may never have heard of them, either).
The thing is that there is a weather station in Katesbridge and apparently it was colder there than any other place in Northern Ireland overnight from Saturday to Sunday. Minus 6 (that's Celsius – just multiply by 1.8 and add 32 to get the Farenheit equivalent).
One of our local weather forecasters, Barra Best, posted the weather map photo on Twitter yesterday (he commented that you could keep your freezer outside if you lived in Katesbridge).
Enough about this weekend's weather in Ireland though.
What about the weather in Bethlehem on a famous night some 2000 years ago? Was it really cold? Could you feel the frosty wind? Was the earth so deeply frozen that it might have been made of iron? Was it snowing? In fact, had it been snowing for hours on end?
That's the picture in the first verse of Christina Rossetti's In the Bleak Midwinter. Pity the shepherds. No doubt they were hardy men and no doubt the sheep were hardy sheep with those thick woolly coats, but you have to wonder how much grazing would have been going on in conditions like that.
It's not that it never snows in the Bible lands (remember the guy who killed lion on a snowy day), but there is nothing in the text that says it was snowing. In fact, not everyone is even convinced that Jesus was born in winter; even if he was, who's to say it was as cold as Katesbridge? Or Minsk, for that matter.
Whether the birth took place on a midwinter night of Baltic temperatures is not the point of the gospel narrative in Luke. Presumably Christina Rossetti simply allowed her poetic imagination, fuelled by the traditional December date of Christmas to get the better of her!
And that's the thing with carols (a few of them, anyway). When the noise of the cattle woke him, did little Lord Jesus really not cry? How else would a baby communicate distress or hunger? Was he not fully human after all?
We have to admit that some of our Christmas traditions are a bit of a mix between fact and fiction (or at least imagination).
By the way – back to the Bleak Midwinter: I'm open to be corrected on this by poets and musicians, but I can't help wondering if 'snow on snow, snow on snow' fills out the verse because she couldn't think of another line!
However, before you think I am out to completely trash this carol, how about the second verse?
Our God, heaven cannot hold him, nor earth sustain;
Heaven and earth shall flee away when he comes to reign.
In the bleak midwinter a stable place sufficed
The Lord God Almighty, Jesus Christ.
That's magnificent. And that is the mystery of the incarnation. God, a tiny baby, wriggling in the straw! God entering human experience.
Forget the mystery of how the shepherds managed to get pasture for their sheep from frozen earth buried under a mountain of snow. Get your focus on the mystery of God becoming one of us.
As Glen Scrivener puts it in his superb video clip (which you need to see if you haven't already):
This Christmas, look down – to the God in a manger.